Don't you think a sleeveless stringer is far better than a short sleeve or full sleeve t-shirt? They are loosely fitted and don't stick to the body which gives you proper ventilation keeping you fresh and cool all the time.
While doing body building, lifting weights or while performing the warm up exercises you can choose light weight stringers and make your workout hassle free.
Stringers and tank tops are similar to each other and are completely flexible which makes them the right gym wear.
Though they are simply sleeveless, there are many different patterns in those stringers too. They have different sleeves and neck too from which you get the option to choose the desired one.
Top 10 Gym Stringers for Men
There are numerous gym stringers for men available in India. Listed below are some of the popular ones.
1. Power Stringer from Gymshark
The sleeveless tank tops or stringers from Gymshark are all that you need for bodybuilding. They are available in low cut sleeves, high neck, low neck and other features that makes them the right choice for the gym.     
They are high quality, modest stringers for the gym. They have some amazing cuts and curves which suit every body type and give you high level comfort. They are seamlessly designed for everyday use and are made of lightweight fabrics.
2. Nike Men's Gym Stringer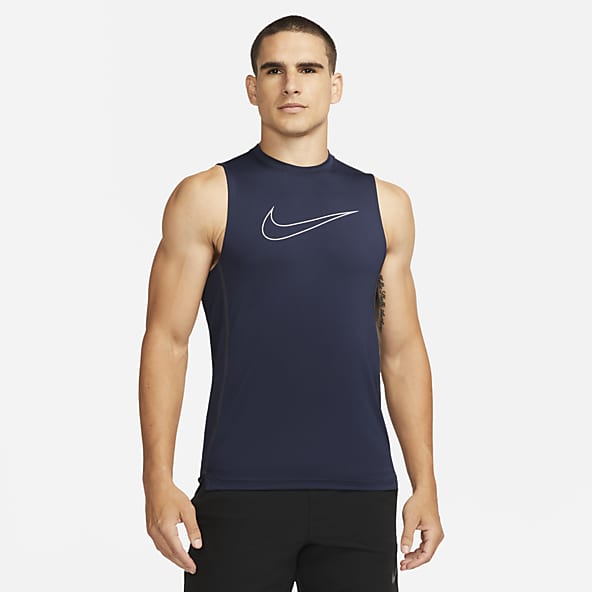 Well known for gym and workout outfits, the stringers from Nike are everyone's favourite. They are not only known for workout purposes but are also perfect as a nightwear and jogging clothes, yet best for summers. 
They are purely made from cotton and absorb sweat and moisture. They are best for summers due to the breathable characteristics and look great when paired with shorts. It tends to be the right pick for training and exercise.
3. Gym Stringers from Fuaark
The classic stringers or gym vests from Fuaark are one of the best gym stringers India. They have so many color options and fitting patterns from pastels to vibrant that can be paired with different bottoms and jackets too. 
These are the regular fit stringers which are available in different sizes as well. The sleeveless round neck tank tops are gentle to wash and are favourable for every season either its summer or winter. Pair it with other gym accessories and you are ready for the gym.
4. Sleeveless Stringers from ASOS
The iconic training stringers from ASOS are the premium wear for bodybuilders, athletes and gymaholics. 
They help you look stylish and remain comfortable all day long. These stringers are the right sports wear and also a convenient inner wear for men.
They provide you a great look by giving you a comfortable fit and an enhanced shape to your body.
These high quality stringers have the most dignified colors and give you a modern fit while you wear it.
5. H&M Loose Gym Stringers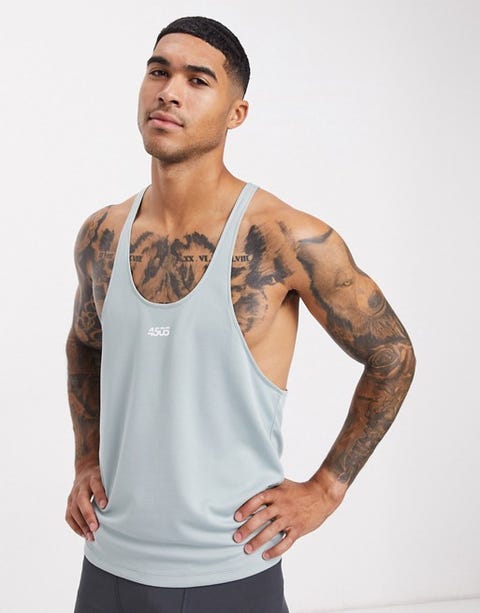 The closed neck tank tops and gym stringers from H&M are one of the brilliant choices. These stylish upper wears are made from fast drying fabric which are smooth, soft and comfortable for the gym and are also a perfect casual wear. 
These sophisticated tank tops will match with whatever you like to pair it with. Be it an ankle-length track pants, loose joggers or knee-length shorts they are going to match perfectly with the sleeveless loose stringers and tank tops.
6. Men's Gym Stringer from Blazze
The option from Blazze is a little more appropriate for gym and training. They are air cool and absorbent stringers which helps you stay dry during your workout. It reduces sweat and increases breathability during your workout session.   
They are all purpose sports wear, leisurewear and loungewear which is extra comfortable and lightweight. They are usually made from premium cotton and other fabrics as well which gives the right look and comfort to the wearer.
7. Low cut Stringers from Adidas
The brand which deals with numerous sportswear and leisurewear has the most colossal options. The fitness, texture and compatibility of the clothes can't be seen in any other outfits. From stringers to t-shirts and tracks, Adidas has everything.
Pure cotton fabric and soft appeal of the outfit makes it the coolest and most appropriate pick. You will get loose low cut stringers, fitted round neck stringers, bodybuilding tank tops and many more from Adidas.
8. Jockey Tank Tops and Stringers
The rocking plain and printed stringers from Jockey will make you look the best at the gym. They are elegant and striking gym outfits with immensely comfortable characteristics. These tank tops are the first pick of trainers and professionals. 
They are made from rich cotton fabric that absorbs sweat and moisture when you are performing your workout.
They allow you free and hassle free stretch which gives deeper breathability while doing the workout.
9. Chkokko Men Gym Tank Tops
Either you wish to get a military print tank top or want plain stringers or something with motivational quotes Chkokko has everything. You can wear it countless times and get a secure fit whenever you wear it. 
Most of them are made of dri-fit material which is sweatproof and has complete flexibility so you can wear them anytime. It is one of the best gym stringers for men in India which you can wear on a casual basis too.
10. Stringers from Lululemon
Last but not in the least in the list is stringers from Lululemon. They are a perfect fit for gyming and jogging. 
Whether you want a plain black tank top or you wish for a printed stringer, you will get them all. From fabrics to patterns everything is to the point.
They are especially designed to provide you high relief from sweat and moisture and also restrict it from sticking to the skin.
There is no better option other than stringers and tank tops for a gym. The best part is that you can pair it with any type bottom.
All the stringers listed above are the top choices of gym freaks, athletes and professionals. If you are also one of them then you can pick from the stringers listed above.   
Also Read About